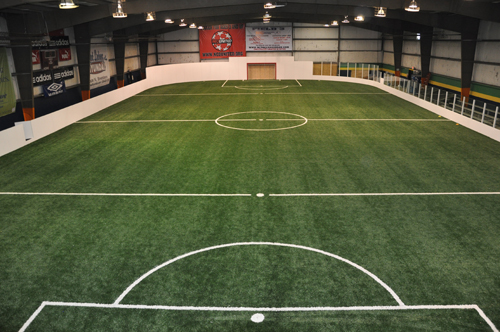 Ever since 1984, NC Soccer Club has served indoor fields for soccer clubs in Hudson and around Northeast Ohio. Other than serving indoor fields for clubs, they also have a shop that sells jerseys, socks, kits, cleats and other related accessories to soccer players. 
Gary Nawrocki, Brian Hall and John Kissner are all co-owners of this privately owned company. However, they all have their own roles and responsibilities when it comes to being co-owners. Nawrocki is the president, Hall is the general manager and Kissner is the team sales and soccer league organizer. 
Although this facility has been a great addition to soccer clubs in Hudson and around Northeast Ohio, they have needed a major renovation with their indoor fields and facility as a whole for many years. Some major problems that customers have complained about include the disorganization and uncleanliness inside the facility as well as the unsafe conditions on the fields for soccer players.  
According to John R. from Yelp, NC Soccer Club, "smells like cat urine from the cats that they allow to roam in the facility." In Ohio, private companies are allowed to have domesticated pets in their workplace. However, this does not make it okay for the co-owners to allow these cats to urinate everywhere and cause an odor around the facility. This smell has lingered around NC for years, which is most likely the reason for the rotted areas outside their fields. These rottings have to deal with the cat urine being left alone for long periods of time. 
Story continues below advertisement
Many people on both Yelp and Top Rated have stated that the bathrooms are even filthier than the smell of cat urine. Christy S. from Top Rated states that the women's bathroom doesn't even have a changing table for a baby.
In accordance with ADA guidelines, baby changing stalls must be installed in all public restrooms. This includes buildings like recreation centers as well as restaurants, hotels and arenas. Since NC Soccer Club is a recreation center, they are required to have a baby changing stall in the women's restroom. It is a huge surprise that the co-owners have not gotten in trouble yet. 
Even though the uncleanliness of the facility is unbearable, the cramped parking lot, along with the limited amount of seating and space to watch the games is even worse. 
As stated by Cheri H. and Christy S. from Top Rated, the hockey-rink structure of the fields aren't very spectator-friendly. 
"There is basically no seating on any of the fields. You can try and bring your own chair but having an actual place to sit it down and see the game isn't practical," Christy exclaims. 
Cheri also complains about how minimal parking is. This very minimal amount of parking has made it difficult for people in cars to maneuver around tight spaces. There have even been some fatal car accidents in the parking lot due to this. 
Although parking, rotting areas from cat urine and filthy bathrooms need to be fixed at NC Soccer Club, most of the soccer players enjoy playing on these fields. 
According to NC Soccer Club's website, there are four fields within their building. Field One, Field Two and Field Three are all walled. As stated, these walled fields are built like a hockey rink structure. Soccer players that are eight to 12 years old play with six players plus a goalkeeper, while soccer players 13 years and older play with five people plus a goalkeeper. However, Field Four is a normal soccer field with an out of bounds line. 
"From a player perspective, everything thus far has started right on time. The leagues are managed very well to the point we had a discrepancy in the score and it was fixed the next day in the standings," Jonathon B. from Yelp informs. 
Keith K. from Yelp also states that all of his daughters' games at NC have started right on time.   
"The fields are great on the knees with the protective rubber in the field being way better than the surfaces I used to play on," Jonathan B. adds. 
However, NC Soccer Club's rules and regulations, as well as their fields in general, have been unsafe for most soccer players. 
NC Soccer Club states in their rules and regulations that for all walled fields at the facility, there are no outdoor soccer cleats allowed and all players must wear indoor soccer shoes. However, most indoor soccer facilities allow players to wear outdoor cleats on their fields. 
A handful of players from NC state that they slip frequently from their spongy artificial turf. This turf does not mix well with the flat indoor shoes that NC makes the players wear. "Indoor shoes with flat bottoms are ok but a bit slippery," Za T. (from Top Rated) comments.
Another safety concern includes pieces of the ceiling practically falling onto the fields. According to David J. and others from Top Rated, their ceilings have insulation hanging out of them as well as dust and water leaking from them. If insulation touches the skin of any person, it can trigger skin irritation, skin rashes and even allergies.
As shown, NC Soccer Club should refurbish their entire facility. There are a handful of dangers among soccer players on the fields. This can range from dust, water and even insulation falling through the ceiling to slipping and getting hurt from the flat bottom shoes players are forced to wear on the facility's spongy turf. The uncleanliness and disorganization inside and outside the facility have become a health hazard for all.