Six years ago, Sue Conroy and Jessica Stiffler were hiking together when they came up with the miraculous idea of H2BE. H2BE is a crossover course made of Honors Biology and Honors English 9. Conroy teaches Biology, while Stiffler teaches the English part of the course. Eighth graders can apply to H2BE in January, and by early May, 40 to 60 upcoming freshmen will be accepted. The course has two classes; one in the morning (AM class) and one in the afternoon (PM class).
Even though H2BE is known for blending Biology and English, the backpacking trips are what intrigues most students to join this course. 
There are two backpacking trips H2BE takes within the school year. In the fall, the first backpacking trip is taken at Oil Creek. This tributary is located in Titusville, Pennsylvania, and the trail that H2BE takes is 12 miles long. 
"The fall backpacking trip at Oil Creek is usually seven miles the first day and then around five miles the second day," Stiffler states.  
Story continues below advertisement
Stiffler has been teaching English at Hudson High School for 23 years. She has also been backpacking since 2005. When it comes to backpacking, she is clearly quite the expert.  
Even though this fall trip at Oil Creek sounds easy, it isn't. 
Before they even take these students to Oil Creek, Conroy and Stiffler teach their students how to properly backpack in the wilderness. 
They teach their students how to set up a tent, hang a bear bag, filter water from a creek, start a fire, use cooking equipment and fill up a backpack properly during these periods. 
"We also teach them to care for the land and to leave it in better shape than when we got there to camp," Conroy expresses. 
Since 2013, Conroy has been hiking and backpacking around Ohio and Pennsylvania. Like Stiffler, Conroy also knows a thing or two when it comes to backpacking. 
The fall backpacking trip at Oil Creek is mostly for the students to learn the ropes of how to backpack properly as well as getting used to a new and different place that most students aren't accustomed to. 
"
The Oil Creek trip is one night, but it feels like a longer experience than it actually is because psychologically that's what happens when you are in a new and different place.
— Jessica Stiffler
However, the main reason that Conroy and Stiffler take these students to Oil Creek is because they want them to get ready for the biggest backpacking trip in H2BE: Laurel Highlands. 
Laurel Highlands is located an hour east of Pittsburgh, Pennsylvania.  This 30-mile trail takes four nights and five days to complete each Spring. 
Even though Laurel Highlands is a longer and more physical hike than Oil Creek, the backpacking part is still the same. Everyone in the class still needs to set up a tent, hang a bear bag, filter water from a creek, start a fire and use cooking equipment when arriving at the campsite. 
Yet, there are two main things that change at Laurel Highlands compared to Oil Creek. The first one is the weight of the backpack that a student carries due to more clothes and food. Secondly, there is a 45-minute class every single night of the trip. 
Before the Laurel Highlands trip, each student is given a small journal to write in for these classes. 
"In the journals, the students write about reflecting back to quotes on John Muir and their observations on organisms around the environment," Stiffler affirms. 
"We also make numerous observations throughout the day and talk about them at camp." Conroy adds.
Sometimes the weather has been so bad that Conroy and Stiffler have had to cancel these sessions. This severe weather can range from pouring rain to even snow.
Two years ago, there was a tornado warning at Laurel Highlands. When Conroy and Stiffler saw the sky turning dark and the trees shaking abruptly, they were not taking any chances. They took everyone in the class away from the campsite and under some wooden shelters. These shelters were at the very bottom of the hill, while the campsite was at the top of it.  
"We ended up sitting in those shelters for three hours and telling spooky stories while we were waiting for the weather to pass," Stiffler states. 
Luckily, it was uneventful in the long run, and class was simply canceled for the night. 
When things go wrong, everyone always has a good laugh about it. 
"We sometimes laugh a lot about how long it takes to hang a bear rope." Stiffler claims.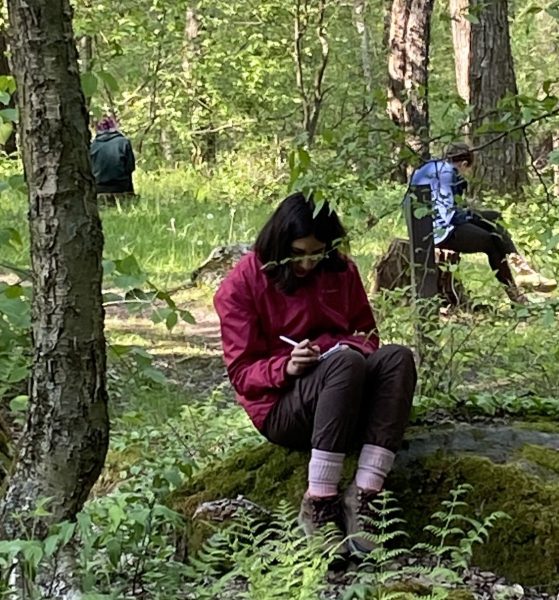 Conroy also finds it hilarious when it starts raining, and students start cheering because they know they won't be attending a 45-minute class anymore. 
There are a lot of other benefits that come from these trips. This includes students bonding with each other as well as boosting each other's morale when experiencing bad weather and hiking up big hills on the trail. 
When it comes to preparing for backpacking trips, Conroy and Stiffler are the people to ask. 
Two things Stiffler recommends to anyone wanting to get into this hobby are to research cheap gear options online and learn more about the trail. 
"Know what the amenities are, know where the waters are located to filter water from the creek and know if you are going to a place where the springs are." Stiffler affirms. 
Conroy recommends students read and talk with people who are somewhat familiar with backpacking, as well as visiting REI. However, she ultimately believes the list is endless when preparing for a backpacking trip. 
"One can never ask too many questions to be fully prepared to the best of their ability." Conroy discloses.