In the past two weeks, Hudson's Varsity Boys Soccer team took on Brecksville, Nordonia and Revere. Brecksville was Hudson's fourth Suburban League game while Nordonia was their fifth Suburban League game. Hudson shuts down both of these teams, winning both games by a long shot. 
During their Sep. 19 home game against Brecksville, Hudson won 5-1. Sophomore Ian Katz and junior Sam Robledo are still continuing to score and make assists left and right. Within the first six minutes of the match, Katz took two shots on goal. The goalkeeper saved both of these shots, but at the 33rd minute, Katz finally took the perfect shot on goal. He brought the score up to 1-0 Hudson. As the pace began to pick up, Robledo scored with 20' left in the first half. Senior Luke Bleifer assisted him with this goal. For the rest of the game, Robledo and Katz started scoring in this pattern. Katz scored again with 8' left in the first half. This was assisted by sophomore William Hallis. Seven minutes later, Robledo scored his second goal with one minute left in the half. Hudson's final goal of the game came from Katz scoring with six seconds left of the first half. In the second half, the only action included Brecksville scoring one goal against Hudson and junior Braden Deutsch's amazing front dive save. In Brecksville's game alone, Katz had a three-goal hat trick while Robledo scored two goals and had one assist. 
A week after this game (Sep. 26), The Boys played again at Hudson Memorial Stadium against Nordonia. Not only was Hudson determined to win this game because it was a part of their Suburban League national conference, but also because it was Youth Night. Youth Night is when all younger soccer players (under the age of 18) in Hudson come and watch the High School Boys Soccer team play for free. This is a huge night, because these young players really look up to this team. Fortunately, Hudson won 8-1 against Nordonia. 
During the match, Robledo scored a three-goal hat trick within the first 23 minutes. His first goal was assisted by Bleifer, his second goal was assisted by junior Ben Beucler and his third goal was assisted by junior Matthew Caputo. Senior Aidan Lawrence also scored during the first half with 10' left. His goal was assisted by sophomore William Hallis. Other than just his assist, Hallis scored in the first minute of the second half, which was assisted by Robledo. Seven minutes later, Katz brought up the score to 6-0 with his goal assisted by junior Parker Maniar. Junior Brayden Talion, junior Logan Honniball and sophomore Noah Liesen also got some action in this game. At the 18-minute mark, Talion scored a goal with an assist by Honniball. A minute later, Liesen scored a goal that was assisted by Talion. In the last few minutes of the game, Nordonia sneaked in a goal. However, this didn't help them at all since Hudson was ahead by seven goals. 
Story continues below advertisement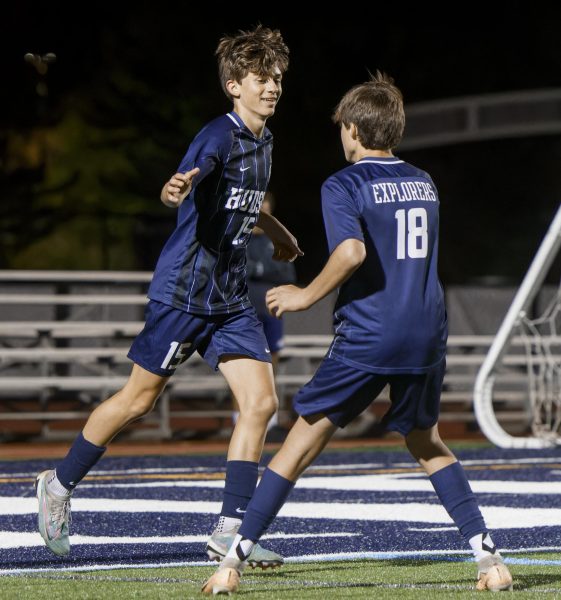 Sadly, Hudson lost 2-3 against Revere on Sep. 28. This also means that they lost their six-game win streak. Hudson was very close to tying Revere's Varsity Boys Soccer team. If Hudson would've tied the game, it would've been amazing because Revere has currently won every single game so far (12-0 overall record). 
At the 26-minute mark of the first half, Revere scored their first goal. This was the only goal scored within the half. During the second half, Robledo tied up the score from 0-1 to 1-1. His goal was scored with 27 minutes left in the game. Once more, Revere scored two more times. They scored their second goal at the 17-minute mark, and they scored their third goal with 10' left in the match. With two minutes left, senior Gavin Mertes scored Hudson's second goal of the game. Unfortunately, two minutes wasn't enough time for Hudson to come back with a third goal to tie the game. Although the Boys lost, they played a very hard-fought match against Revere. 
According to Max Preps, Hudson Boys Soccer takes on North Royalton, CVCA (Cuyahoga Falls Christian Academy), Solon and Copley. North Royalton and Solon are the last two Suburban League games that Hudson plays. 
Hudson's Varsity Boys Soccer team is currently number one in their Suburban League national conference. They have won all five of their games in their conference. 
As claimed by Steve Batko from Hudson Hub Times, Hudson won the league 6-0 last fall season. 
If Hudson wins these last two Suburban League games, they will win their conference title once again. 
With the Boys' determination and hard-fought games these past two weeks, there is a high chance that they will win all of their next four games.