Mr. Brink is a history teacher at HHS and has been teaching here for 18 years. Mr. Brink is known all over the school for being their favorite teacher and for his unique, high-energy teaching style. Mr. Brink was a perfect candidate for this column as he is a movie expert.
When asked what his favorite childhood movie was, Mr. Brink replied with "The Wizard of Oz" and "Rocky." "Growing up, we did family movie nights, so we watched a multitude of movies together. It is hard to pick out one. It depends on the genre," Brink said and continued to list some of the most popular movies from his childhood. When asked why he chose those particular movies, he responded, "I like movies with great stories and great actors."
Brink has many good memories of watching movies. He said, "We [Brink and family] watched movies together as a family with popcorn and cherry floats, which are better than root beer floats." Anyone who is in one of Mr. Brink's classes can attest to the fact that movies are indeed a big part of his life and his classes.
Mr. Brink told The Explorer, "I have probably watched the "Rocky" movies more times than I can count. I can quote most of the lines. I once wrote a "Rocky" trivia book, which I never published. It is absolutely worthless now because people just Google everything." When asked if he watched it again recently, he said, "I watch old movies over and over because the stories are better than most of the crap produced today," which is a sentiment many can agree with.
Story continues below advertisement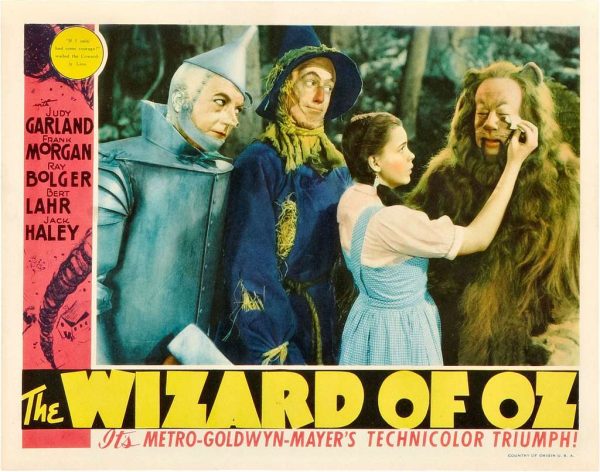 About his other favorite film, Mr. Brink explained, "'The Wizard of Oz' was actually scary for a little kid. That witch, played by Margaret Hamilton, was a nasty, wicked lady. It was always on TV around Easter. As a kid, we didn't have Disney Channel or Nickelodeon. We had Saturday morning cartoons and 2D animated classics from Disney, so everyone watched 'The Wizard of Oz.' We actually watched movies back then instead of people today that watch TikTok all day."
Many may know "The Wizard of Oz" because of its use of color when color in film was new and uncommon, but the movie is much more than that. The film is also known for its memorable characters, storytelling and fantasy. In 1949, on its re-release, it made only $3 million on a $2.7 million budget. Ten years earlier, the song "Over the Rainbow" won Best Original Song at 1939 the Academy Awards.
Regarding the plot, teenager Dorothy Gale lives with her Aunt Em and Uncle Henry on a little farm in Kansas. A tornado comes to her town, and Dorothy cannot get into the storm shelter, so she has to take cover in her house. The house gets taken by the tornado, and she arrives in an unknown land. Once Dorothy leaves the house, she is greeted by Glinda, the Good Witch of the North, who tells her where she landed and how the house fell on top of the Wicked Witch of the East. As everyone knows, Dorothy receives the Wicked Witch of the West's ruby slippers. Dorothy proceeds to follow the Yellow Brick Road on a quest to the Emerald City, where she would be able to talk to the Wizard of Oz so she can return home.
On her journey, she meets a scarecrow who is searching for knowledge; then the Tin Man, who wants a heart and to be able to love; and finally, a Cowardly Lion, who wants courage.
The Wicked Witch captures Dorothy and her dog, Toto, in their efforts to return home. Dorothy's ruby slippers protect her, and she is able to melt the witch away with water. The Wizard of Oz grants their wishes after the group realizes he's an ordinary man. Dorothy tries to leave with the Wizard to return to Kansas, but Toto jumps off the balloon, leaving the pair, and Dorothy chases him. When she needs to return home, she clicks her heels three times and says, 'There's no place like home," and wakes up back in her bed.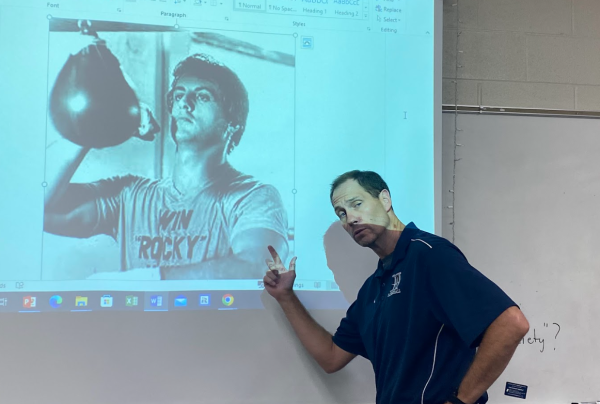 As for "Rocky," Mr. Brink said, "'Rocky' was only on once a year because we didn't have VCR or cable back then, so you waited all year for the movie. 'Rocky' was not only a sports movie, it was more of the underdog proving that he wasn't just another bum on the corner smoking a lung dart. The music became the iconic pump-up workout song for my generation." "Rocky" was a big part of Mr. Brink's childhood and still continues to stick with him to this day.
Directed by John G. Avildsen and written by and starring Sylvester Stallone, "Rocky" was released in 1976. Stallone wrote the screenplay in just three days and refused to allow the film to be produced unless he was the main character. The very first film is just the start of the "Rocky" franchise. Alongside Stallone, the movie features others like Talia Shire, Burgess Meredith, Carl Weathers, and Burt Young.
Photography began in Philadelphia, where the "Rocky Steps" have become an important landmark seen by countless fans each year. They worked under a low budget of $1 million, so they decided to show off the popularized rags-to-riches theme during the film. "Rocky" was a great success, earning approximately $225 million and receiving ten Academy Award nominations.
In the film, Rocky Balboa is a poor part-time club fighter who gets an unlikely shot at competing to win the World Heavyweight Championship against famous fighter Apollo Creed. Rocky competes in the event even when all odds are against him.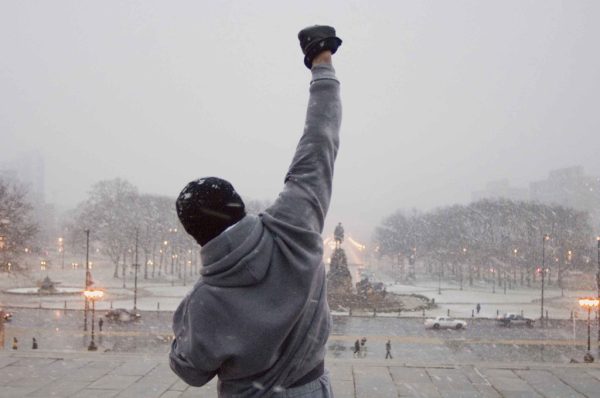 Rocky starts trying to find his place in the boxing world while training at Mighty Mick's Gym. The famous Apollo Creed is in Philadelphia for a scheduled match. The opponent Apollo is supposed to fight is injured, so he comes up with the idea to randomly choose a nobody of a boxer to get the chance of beating him. Rocky is eager to fight and attends a press conference to tell the world he is taking this one-of-a-lifetime opportunity and will fight Apollo. Even after getting kicked out of his old gym, Mickey asks Balboa to let him be his manager. Mickey is determined to bring the best out in Rocky and puts him through the most intense training of his life.
Once the fight begins, Rocky blows everyone away and holds his own against Apollo. Creed starts taking the fight more seriously, and by the fifteenth round, Rocky is so injured that he can't open his eyes. The decision is split as both opponents made it to this point. Creed ends up getting the championship title and receives the final victory. Even though Rocky did not receive the victory that night, he was the champion to everyone else and gave many a sense of hope.
Mr. Brink chose some excellent films from his childhood to share. Both movies tell stories of resilience in the face of adversity and are timeless classics.