Review of The Smashing Pumpkins new album, Atum
This past September, The Smashing Pumpkins announced they were releasing a sequel to their 1995 and 2000 albums, Mellon Collie and the Infinite Sadness and Machina/The Machines of God. The sequel is a 33-song "rock opera" to be released in three acts; 11 songs released every 11 weeks. 
Mellon Collie and the Infinite Sadness is The Smashing Pumpkins best selling album, arguably the best album (tied with Siamese Dream) and has achieved mass success since its release in 1995. MCIS has an alternative rock/grunge/metal sound but does not stay confined to typical sound, it's creative, angsty, thrilling, new and never-before-heard of at the time it came out, which is what gives this album the special something it needed for such success. Not to mention, the execution was perfect. The contrast of songs like Zero and Bodies compared to songs like Cupid de Locke and Lily is what gives this album the versatile sound necessary to be exceptional. 
In 2000, Machina/The Machines of God was released and took on more of a gothic/industrial style of rock, similar to their album Adore, just less synth/electronic and more hard rock. Similarly to MCIS, there was variation in lighthearted and dark tracks which was appreciated by fans. However, Machina/The Machines of God was not nearly as successful as MCIS but is still extremely good and successful nevertheless. 
Machina was a concept album telling the story of a rockstar named Zero. It is incredibly dark, which could be why it wasn't the same mass success that the entirety of MCIS was. 
Tuesday, November 15th, was the release of Atum – Act 1, and it is arguably the worst album The Smashing Pumpkins have ever released. Granted that it's the sequel to MCIS and Machina and being held to exquisitely high standards, this album did not offer anything worthy of mass attention and has leaned too far into the electronic/synth sound. 
The opening track was a theatrical instrumental that I wish more accurately set the tone for the rest of the album. It sounds good, kind of electrical but also has enough of a rock sound. 
"Butterfly Suite" has a very similar vibe to it as the song "Stand Inside Your Love" by Machina/The Machines of God. This track is one of the better songs on this album. It has a good mixture of electric/synth, and rock, with a joyous sound that is reminiscent of a few tracks off MCIS and Machina. 
Similar to "Butterfly Suite", this track is reminiscent of The Smashing Pumpkins' old sound as well. This is probably one of the best tracks off of Atum – Act 1. This track in particular is thankfully less synth/electronic and more rock. 
Track 4 is where this album begins to go downhill. Very synth but listenable. Would not add it to my playlist, however. 
Nothing stuck out about this track. 
Unlistenable. Too synth. 
This track is very electronic rock. It's incredibly decent, but once again nothing really sticks out. 
This track is very bland as well. 
"Beyond the Vale" is where the album picks back up. There is a return to the rock sound, super catchy, great beat and good lyrics. This track is reminiscent of the classic Pumpkins sound as well.
Track 10 ruined that good thing we had going with "Beyond the Vale". This track is horrifically, terribly, inexplicably awful. It has to be a joke of some sort or there has to be some creative reasoning behind this track. It is entirely synth and just does not sound good. It sounds like the warm-up song for a jazzercise VHS. During my first listen of Atum, I had the album on shuffle and this happened to be the first song that played. I closed my Spotify app altogether immediately after.
The eleventh and closing track was simply disappointing. It is catchy, however.
 Overall, this album is tolerable with at least a few songs worth being saved to your playlist. However, it didn't offer anything spectacular to make this album worthy of much praise as a whole. The concept of a three-album rock opera is creative and can be appreciated. It's not necessarily awful, but it can be assumed those who listen to The Smashing Pumpkins are into a grunge alternative rock sound, and Atun was unexpectedly very synth and electronic, which is different from past albums and most likely why fans aren't jiving with it. Some fans feel as if Corgan is losing his spark as he attempts to recreate past albums. Honestly if you're into alternative synth music, this is a perfect album for you, but for those who are into the classic Pumpkins sound, you will be disappointed. At the end of the day, Atum is worth a listen, I recommend only tracks 2, 3 and 9. The overall rating would be a 6/10. 
Your donation will support the student journalists of Hudson High School. Your contribution will allow us to purchase equipment and cover our annual website hosting costs.
About the Contributor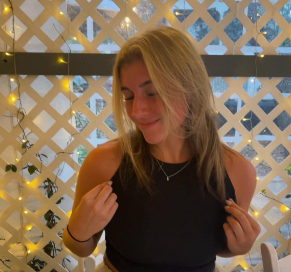 Arianna Zapp, Reporter
Arianna is a senior at Hudson High School. This is her first year writing for The Explorer. In her free time, she enjoys weight lifting, hiking and spending...