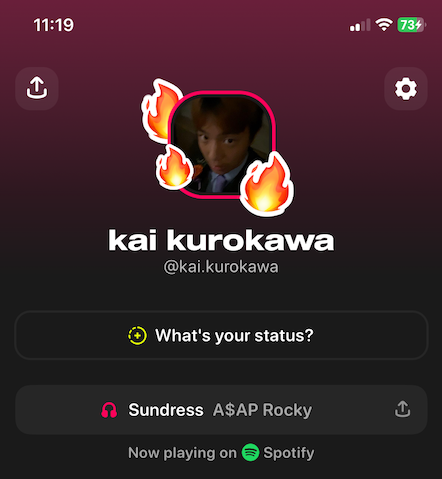 A new app named Airbuds has taken teenagers around the world by storm. It claims to allow users to see what their friends are listening to and shows stats on what songs you and your friends listen to. To understand how this app works better, I created an account and downloaded the app to see how people interact on this platform. 
The first thing I noticed was how similar it was to a "social media" app. The home screen features all the songs your friends have been listening to in a scrolling format, similar to TikTok, Youtube Shorts and Instagram Reels. This scrolling allows for continuous retention from the viewer and incentivises staying on Airbuds longer to aimlessly "scroll." It also allows users to react to certain songs with an emoji to show appreciation to a song. These reactions can be seen from the other end and will tell you who reacted to what song with what emoji. 
Finally, every Friday, Airbuds releases a Weekly Recap, in which it shows the total minutes you listened to music, your top artists and the songs you had on repeat that week, as well as how many times you listened to it for. All of these perks allow for an enjoyable experience on the app and many students back this claim up. For instance, junior Maddie Little commented about how music is "one of the number one ways people connect with each other now" and with the help of apps like this, can allow for students all around the world to connect and interact with each other.
The only downside to this app is how music has slowly turned into a "social media," in the sense that certain parts of a song can become widely popular as opposed to a dedicated fan base enjoying the entirety of someone's discography. Junior Brooke Harvey mentions how "different songs become popular" and how songs can "lose their listenability as everyone has already listened to it."
Story continues below advertisement
There is a joy in finding and supporting an artist you enjoy listening to, but the recent culture of social media has made it so that music is being encouraged to "blow up," as opposed to just creating what creators want to. While Airbuds is an interesting app that I will use regularly now, it is worth noting the downward trend of music and the upward trend of social media that it feeds into.