Starbucks has always had a large fan base, with flocks of people drooling over the wide variety of refreshers, cafe items and, of course, coffee. Starbucks has been catering to their customers by giving new drinks based on the season. For example, fall has always been one of the featured seasons that people eagerly await. With creamy chai or classic pumpkin spice, there is something for everyone.
The fall Starbucks menu consists of four drinks: Pumpkin Spice Latte, Pumpkin Cream Cold Brew, New Iced Apple Crisp Oat Milk Shaken Espresso and New Iced Pumpkin Cream Chai Tea Latte. There are also three food items: Pumpkin Cream Cheese Muffin, New Baked Apple Croissant and the iconic Owl Cake Pop.
Pumpkin Spice Latte: When someone thinks of fall, the first thing that usually comes to mind is the iconic Pumpkin Spice Latte. With creamy pumpkin-flavored coffee, whipped cream and hints of nutmeg and cinnamon, what is there not to love? It's the perfect drink to compliment a crisp day while reading a book or visiting a pumpkin patch.
Pumpkin Cream Cold Brew: Many will argue that the pumpkin spice cold brew is one of the best drinks on the fall menu. Although it sounds underwhelming, as it is really just a "cold brew sweetened with vanilla-flavored syrup, finished with pumpkin cream cold foam and a dusting of pumpkin-spice topping," there is something very special about the combination of flavors. There is no better pair than a smooth, rich cold brew with the velvety pumpkin sweet cream. Although there is quite a lot of sweetness to the drink, it does balance itself out quite well.
Story continues below advertisement
New Iced Apple Crisp Oat Milk Shaken Espresso: As many of the drinks on the seasonal menu revolve around the taste of a pumpkin, seeing this new apple beverage is quite the excitement. The oat milk shaken espresso is a fan-favorite by many because of the rich, bold espresso. It shocked many pumpkin spice fans as it surprisingly shone through the menu. Being able to smell the apple through the drink was definitely a good sign. Overall, this drink accurately got one of the higher ratings from consumers.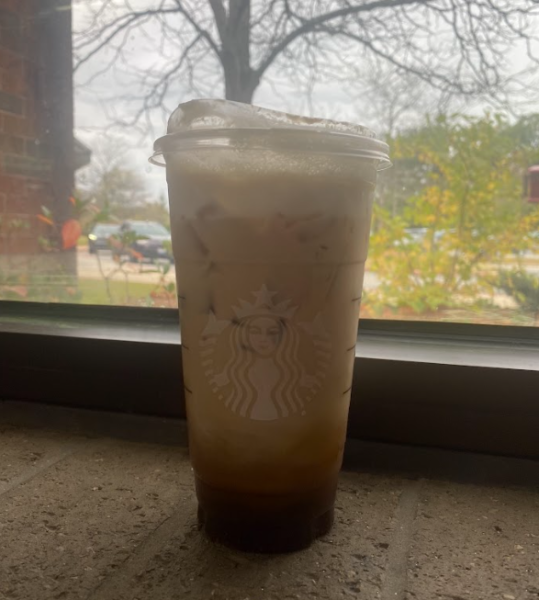 New Iced Pumpkin Cream Chai Tea Latte: Starbucks defines the drink as "a blend of black tea infused with warming spices and milk, topped with pumpkin cream cold foam." This new fall treat didn't quite match the consumers' expectations, as it "fell too flat," according to Tasting Table. The drink has an incredibly strong sweetness without any tea spices seeming present. For a sugar tooth, this drink may be the perfect drink, but if you're looking for that tea flavor from the chai, this drink may not be the best option. This drink could be improved with stronger tea flavors and a toned down of sugar.
Pumpkin Cream Cheese Muffin: Almost every time this sweet treat appears on the menu, they are usually the first to sell out. With a filling similar to that of the classic Cheese Danish that Starbucks offers, it was destined to be just as, if not more, popular. The muffin itself may appear to some as dry, but the cream cheese filling helps with balancing the textures. Starbucks writes that it is "A spiced pumpkin muffin with sweet cream-cheese filling and a pepita sprinkling." It goes very well with one of the several fall drinks on the menu.
New Baked Apple Croissant: There are numerous croissant-like options featured on the Starbucks menu. The apple croissant is described as a "Flaky croissant wrapped around warm apple filling and baked to a golden-brown finish." In the photo that Starbucks provides, this baked good appears to be more of a square, flat dessert, but it is rather quite muffin-like. Unfortunately, the apple filling was very unappealing. There are little to no actual apple chunks, and if there are, they're very small. The croissant is a lot less flaky and enjoyable than the other croissants that are offered, but there were very delicious flavors that stood out.
Owl Cake Pop: Cake pops are an extremely popular choice by a vast number of Starbucks consumers. There are always fun seasonal depictions of characters that really draw the eye to them. The cake is so moist with heavenly frosting. Having this fall character join the pack was exciting. Although the taste resembles the other cake pops, there was a slightly salty aftertaste.
There are many fall options to choose from for this year. Make sure to try some of these fall drinks before the season is over!