The Social Studies department's biggest hit: Jefferson Diner. The group was created by Mr. McGowan, Mr. Carmichael, Mr. Mangol and Mr. Chiorian.
"Jefferson Diner began as a joke," Mr. Carmichael shares. This "joke" began in 2000 while they were all still early in their careers. After spending the day at the lake for a fishing trip, Mr. Chiorian, Mr. Carmichael and Mr. McGowan decided to stop at a little diner in Jefferson, Ohio. After eating, they stepped outside to take a photo in front of the diner, jokingly saying that this would make a great album cover for their band.
"
Jefferson Diner is also a great breakfast place. And on Friday nights there's all-you-can-eat fish fry. Everyone should check it out
— Mr. Carmichael
Then, 18 years later, former principal Mr. Wilch, made a mistake in their schedule for Parent Teacher Conference Night. The teachers had an extra 30 minutes they had to stay at the school, but the parents did not. The Social Studies teachers then decided to "pull out the guitar and belt out a couple tunes," Mr. Carmichael says. Because they had so much fun, they decided to pull out that photo and form a fake band called Jefferson Diner, at this point, as a joke. Later, at the Hudson High Talent Show, they performed and "away we went with satirical, forced and artificial fame," comments Mr. Carmichael, symbolizing the group becoming more than a joke.
Story continues below advertisement
After the talent show, they started to take the band idea and run with it, creating mugs, t-shirts and posters, all with their favorite photo on it, featuring the Jefferson Diner name. They also agreed to perform a couple of times for fundraising. "During COVID, for instance, there was a stay-at-home-streamed "dance" that some students organized to raise money for the Leukemia Lymphoma Society. We recorded a song for that dance. We have also done a couple songs at the Fashion Show in the Spring that also raises money for the Leukemia-Lymphoma Society. Another year, the Service Learning students asked if they could make concert posters and sell them to raise money for a local organization that helps immigrants and refugees in Northeast Ohio get acclimated to their new lives," Mr. Carmichael shares.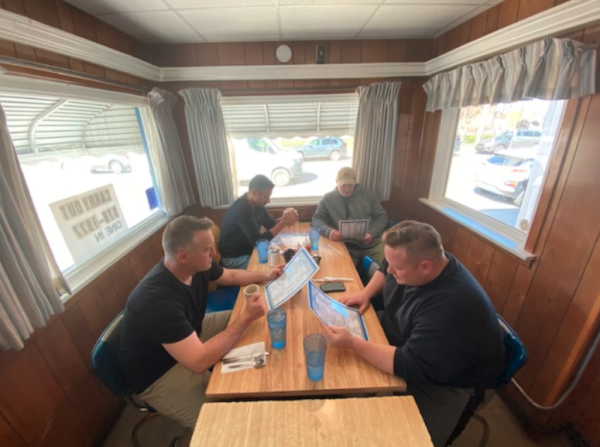 The Jefferson Diner took their "fame" and turned it into something that can give back. Hudson students love that their teachers are part of a band, even if it is just for fun. Mr. Carmichael comments that, "the bottom line is, students in this school can be incredibly generous and philanthropic and we are thrilled to take part in any of those causes we can by allowing students to use our logo or likeness to make some money for their cause. We have a great time struggling through most songs, making fools of ourselves and, occasionally, sounding halfway decent." It's inspirational to see the joke evolve into something that is so much more than that. 
As for the claim to be a "real band," they are in the sense that they are "people in a group, playing instruments, singing happens and they have merch." "That's about as far as we are willing to go in claiming legitimacy," states Mr. Carmichael. Also, last year, the Jefferson Diner was invited to perform with an actual band of HHS students. Jagger Pallay and his band, the Pallay Boys, and Ethan Ventresca and his band, Psycho Fuzz, joined Jefferson Diner on stage of the HHS Fashion Show. Mr. Carmichael says that "for future events, if we are asked to participate, we will likely try to incorporate other Hudson performers so more students have opportunities to feature their incredible talents and significantly improve our sound quality."