For over 25 years, Hudson High has hosted blood drives to support the American Red Cross. Last Wednesday, HHS held its first blood drive of the year. 
This HHS blood drive had the most sign-ups since COVID-19, with 57 people signing up to give blood. On September 11th, 2023, the American Red Cross declared a National Blood Shortage due to "climate disasters and low donor turnout."
Now, more than ever, it's imperative to donate blood if you can. 
Lisa Spaulding, the Student Government advisor and a science teacher at the high school, shared, "Because of the shortage, they [the American Red Cross] are processing the blood, testing it and then sending it directly to hospitals. That's how badly it is in need now."
Story continues below advertisement
Although there were 57 appointments scheduled, not all volunteers may be selected as donors. For example, students may be unable to give blood if their pulse is too high. Often, students forget to come, or they can get nervous, which also lowers the number of donors.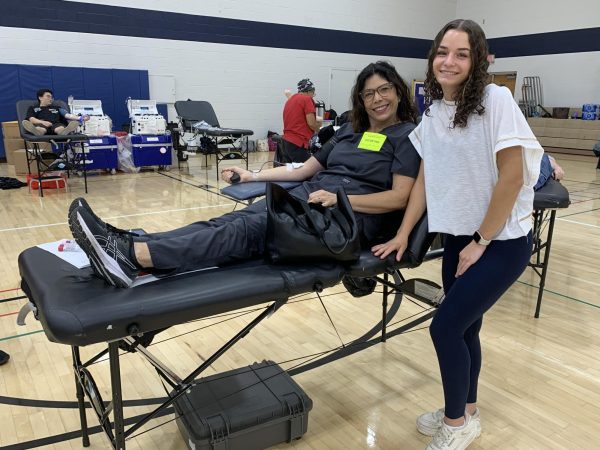 There are two ways that students can donate blood. They can either opt for a regular blood drawing, during which a pint of "whole blood" is given, or the "Power Red," in which a donor provides the red cells in their blood, but the collected plasma and platelets from the blood are returned to the body. 
It's not easy organizing an event as involved as this. As a lead blood drive manager, Spaulding has to work with the Red Cross to schedule dates and set up all proper equipment. "I have to set up with custodians, maintenance, the office – virtually everyone in the building. We always need tables and chairs as well as food and heat for the event to go as planned."
The chairperson for this blood drive, Junior Sneha Upadhyayula, and many other student government volunteers have dedicated numerous hours to ensuring the event runs smoothly. In total, it takes about 15 to 20 student non-donors for a blood drive to be successful.
Senior co-presidents of Student Government, Avery Travis and Charlie Ross, have helped run and organize the blood drives for the past three years. They help plan, publicize and encourage others to sign up for the drive. On the day of the blood drive, they are the first individuals to greet donors in the auxiliary gym and help check them in.
Ross comments that everyone should give blood if they are eligible to. "I think a lot of people would be willing to give blood if they knew the opportunities, and there's a lot of benefits to giving blood. This is just a simple way to give back and help people out." 
Travis also recommends donating blood if given the chance. "If you've never done it before, try it. And if you don't like it, don't do it again. But it is definitely something you should try because [your donation] can save up to three lives."
If you missed this season's blood drive, consider donating later in the year during the two future blood drives in January and March. Students must be 17 or older or 16 with a parent's permission. For more information on the American Red Cross and its mission, explore its official website at https://www.redcross.org/.