For over 31 years, Hudson High School has sold delicious cookies in the snack line. These cookies have made and continue to make the students at Hudson High School look forward to lunch and ultimately school altogether.   
Those working behind the scenes to bake and distribute these cookies include head chef Shelly Shoover, assistant head chef Laurie Kaiser and snack line food preparer Debbie Impiccini. 
Shelly Shoover has worked at Hudson High School for over 26 years. She makes sure that the companies that produce the cookie dough for the cookies come in on time. 
"Our main delivery food source is from Gordon Food Service while we get our sugar and seasonal cookie dough from Dough Gos," Shoover states. 
Story continues below advertisement
Gordon Food Service (GFS) is a prominent family-owned business based in Grand Rapids, Michigan. GFS distributes their pizza dough and their infamous chocolate chip cookie dough to Hudson High School. 
"We get 15 cases for every time we get a delivery, which happens twice a week." Kaiser explains. 
"Each case has 240 cookies within them!" adds Shoover. 
Laurie Kaiser is in her 18th year working at Hudson High School. She works with Shoover and helps Impiccini bake the cookies in the kitchen.
Debbie Impiccini has been working at Hudson High School's snack line for over 12 years. Even though she is one of the only food preparers in the snack line, she still stays on top of her game by  baking a huge amount of these cookies on a daily basis. 
"Debbie arrives around 8:15 am on school days," Shoover mentions.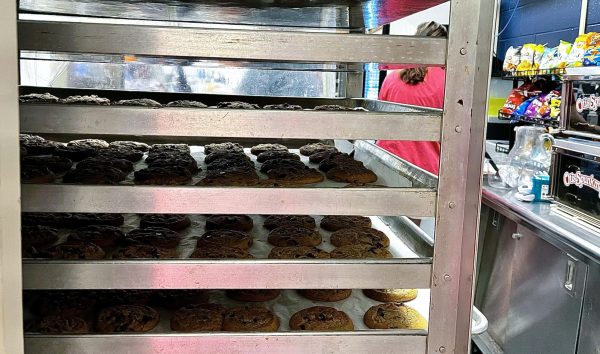 The first thing Impiccini does in the morning is grab nine trays from the back of the kitchen and start placing pieces of cookie dough on each tray. Up to three dozen cookies can be on a single tray. 
Kaiser then aids Impiccini with putting these trays into the oven. After 10 to 15 minutes, the cookies are done baking and Kaiser helps Impiccini once again with taking the trays out the oven. They take the trays out to the snack line and place them on a rack. This rack is here so Impiccini can easily grab one to three cookies and hand it out quickly to the students who are buying it. 
"I bake almost 1,000 cookies per day." Impiccini shares. 
Impiccini's busiest day of the week when it comes to baking and selling cookies is Tuesday because of Explorer period. In Hudson High School, Explorer period is a "free" 30-minute period that every student has at the same time. During this time, students can only stay in either the Commons or the Media Center. Since almost half of the student body ends up in the Commons, the snack line fills up very quickly.
On a recent Tuesday, 1,020 cookies were sold in the Commons. The majority of the cookies sold were chocolate chip flavored.
Even though the chocolate chip cookies are the most common and popular cookie flavor in the snack line, there are four other flavors offered. This includes chocolate, double chocolate chip, M&M and sugar. Impiccini is also currently waiting on Dough Gos to distribute this month's seasonal cookie, pumpkin.  
Although one cookie is only 65 cents, the money that Hudson High School makes selling cookies from the beginning of January 2023 to early October 2023, is impeccable. 
"These students have bought 24,535 cookies from the year to date." Shoover highlights. 
However, this number doesn't compare to the amount of cookies sold last 2022-23 school year. 
Kaiser estimated that the students of Hudson High School spent $85,000 on cookies last school year. This means that Impiccini and Kaiser baked around 130,770 cookies. 
It is absolutely mind-blowing to think about how many cookies these three ladies make and distribute for years on end. 
Next time Impiccini, Shoover and Kaiser are serving lunch or any snacks, thank them for all of the hard work they have done. This includes any other lunch lady as well. They have all done so much for the students in Hudson High School when it comes to cooking and serving food.